Bergy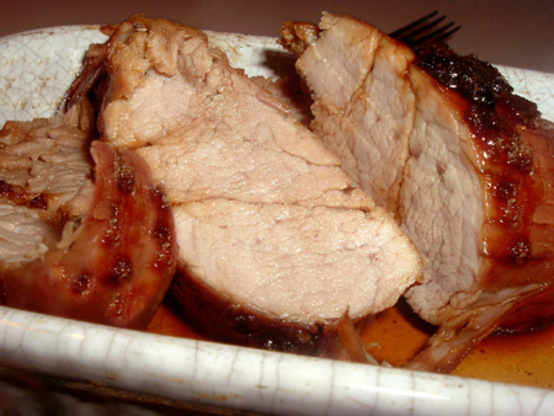 Got this from the newspaper awhile back and decided to try it. I really enjoyed this dish, and maybe you will as well. :) This marinade is also great on Boneless pork loin as well. Recipe can be doubled. I served this with steamed carrots and wild rice. Prep time includes marinating time.
My family and I LOVED this recipe!! I had to eyeball ingredient amounts because I had a 2 1/2 pound pork tenderloin in the freezer, but it turned out great. I only marinaded it for 7 hours (because that is all the time I had available) but it did not seem to make a difference. My meat thermometer said pork only needs to be cooked to 160 degrees, so that is what I went by so the pork wouldn't turn out dry.... it was nice and moist. I forgot to baste the meat during cooking, but after the meat was done I just took it off the rack, cut it up into slices and put it in the marinade in the bottom of the pan. SOOOO good. Thanks OzMan, we will add this to the family recipe book.
Trim fat from tenderloin, and place into shallow dish.
Rub tenderloin all over with the mustard.
Mix liquer (or stock) with the lime juice, salt, allspice and black pepper, then pour mixture over the meat.
Cover and refrigerate for 6 hours or overnight.
Remove meat from marinade and place on a rack in a roasting pan, and cover with the brown sugar.
Roast meat at 450 degrees for 30-35 minutes per pound or until meat thermometer registers 165.
As meat is roasting, baste with the marinade occasionally.
Remove meat when done, and let stand for approximately 10 minutes.
To serve, cut meat in thin diagonal slices and spoon juices over slices.