Pork Tenderloin à La Normande
Sageca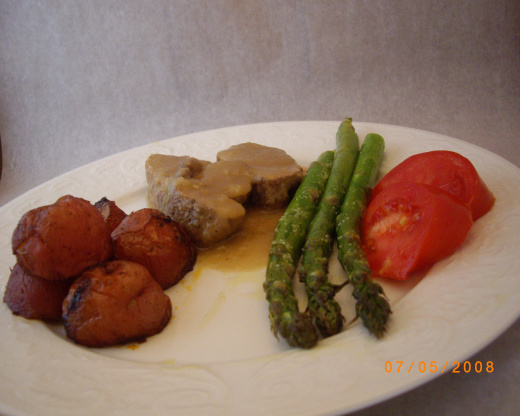 This is a recipe you will make for a family meal or for guests; so easy, so good. À la normande usually refers to a dish where you add a sauce containing apples or cider or Calvados as well as cream. I chose to make this without any alcohol and the flavour is still wonderful. You can prepare this recipe in the morning; refrigerate it and finish cooking it at dinner time.

This has a very subtle flavor, which I liked. I wasn't sure when to add the onion soup base, so I mixed it in right before it went into the oven. I used Granny Smith apples and was pleasantly surprised that the flavor was just appley, not GRANNY SMITHy. I think if I made this again, I would go ahead and use a probe thermometer, as an hour and a half was too long in my oven - the pork dried out a bit. This problem was solved while eating by dunking the pork in sauce! Yum! Thank you for a lovely dinner.
Preheat oven to 350 degrees.
Heat butter in an oven-proof skillet over medium heat.
Rub pepper on pork. Place pork tenderloin in butter, and brown on both sides. Remove from skillet, and set aside.
Heat oil in same skillet.Stir in onions and garlic;cook 2 to 3 minutes.Stir in apple,Old Bay seasoning and onion soup base; cook until golden brown. Stir in flour; cook about 30 seconds.Add salt and pepper.
Stir chicken broth into skillet, and bring to a boil; add salt.Transfer to a casserole; cover.
Bake in preheated oven about 1 1/2 hour or until tender, .
Remove tenderloin to a cutting board, and cut into diagonal 1 1/2-inch slices. Pour the sauce, including the onions and apples, into a blender or food processor and pulse until smooth.
Return the sauce to the pan, and reheat over medium-low; stir in 2 tablespoons cream, and heat until warm. Serve sauce spooned over sliced tenderloin.
Lovely with orzo, rice or roasted potatoes.