Bergy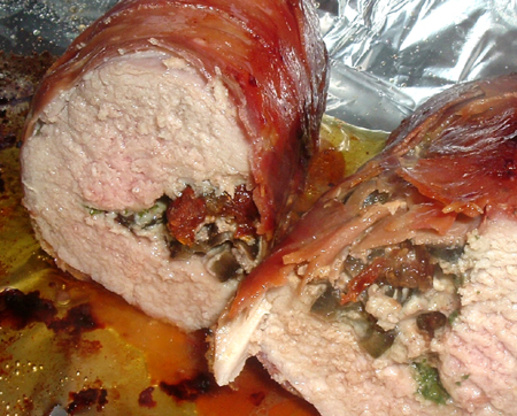 A pork tenderloin, stuffed with an olive, parmesan, and sun dried tomato filling, wrapped in prosciutto, and cooked to perfection. Need I say more?

Pork wrapped in pork. What's not to love? I used chopped sundried tomatoes instead of the paste, but that was the only diviation from the recipe. Served with steamed asparagus for a wonderfully impressive dinner that was very easy to put together. The only thing I didn't like was that I waited so long to try this one out. Cheers.
Preheat the oven to 375 degrees.
Spray a roasting pan with cooking spray lightly.
Slice the pork tenderloin lengthwise down the center taking care NOT to cut all the way through.
Open out the pork, and season all over with salt, and black pepper to taste.
Lay the washed basil leaves, end to end, down through the middle of the cut in the pork.
Mix together, the sun-dried tomato paste, the chopped black olives, the minced garlic, and the grated parmesan, in a bowl.
Spread the resulting paste evenly, over the basil leaves, across the whole length of the center of the tenderloin.
Press the tenderloin back together.
Lay the prosciutto slices, side by side, with the edges overlapping by about 1/2 an inch.
Place the whole stuffed tenderloin along one edge of the prosciutto, and roll, wrapping the prosciutto completely around the tenderloin.
Place the tenderloin, seam side down in the roasting pan.
Brush over all with olive oil.
Bake at 375, for 30-40 minutes, until cooked through.
Let stand for 10 minutes before slicing.