Pork Tenderloin in Bourbon-Dijon Glaze
Parsley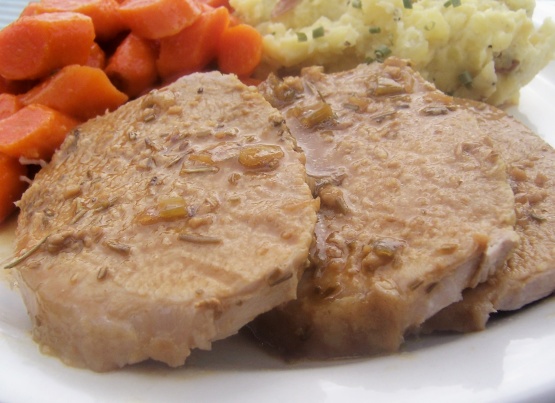 This marinade is good! Sweet with a mustardy bite. I use lite ingredients because we're watching calories, but feel free to go whole hog. HA! Can be made in crockpot but my favorite way is to throw on the grill to sear the outside and give a bit of a smoky flavor and then finish it more slowly in the oven. I'd do it all on the grill but my grill only does hot and super hot!

This was GREAT. We made it for Christmas Eve dinner, and we're making it again for New Years'. We used sugar instead Splenda, and we marinated for two days. 50 minutes in the oven was about 10-15 min too long, but we only had about 2.5 lb and our oven's extra hot. Can't wait to see how try #2 turns out. The marinade just couldn't be better; now if the chefs can get the timing right we'll be the talk of the town :)
Mix all marinade ingredients in gallon size Ziploc bag.
Reserve small amount (in the refrigerator)for basting.
Add pork to bag and refrigerate overnight.
Preheat oven to 325.
Heat oil in large nonstick skillet over high heat until hot.
Add meat and sear on all sides.
Discard used marinade.
Transfer meat to foil-lined, oven-safe dish that has been sprayed with cooking spray.
Add enough water to cover bottom of dish with about 1/4 inch of water.
Cover with foil and bake until internal temperature reaches 150 degrees(50 min or so depending on size of roast), basting frequently with reserved marinade.
Finish cooking uncovered until temperature reaches 160 degrees.
Pour any remaining marinade over pork and let rest 10-15 minutes before slicing.