Pork Tenderloin in Bourbon-Brown Sugar Marinade
Swirling F.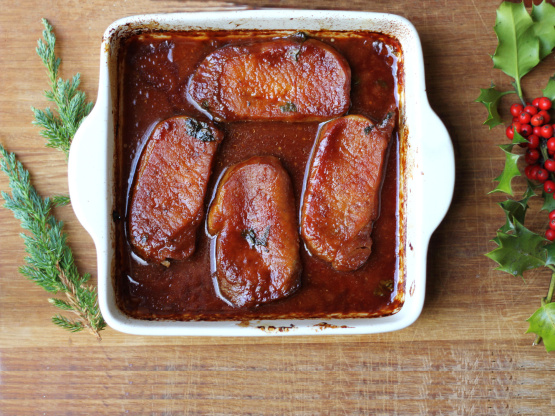 I love to cook pork like this. I have also used this marinade with pork chops. I have adapted this from Lean and Loving It.

I have really fallen in love with pork tenderloin as my other white meet and now enjoy it quite often. I loved the combination of bourbaon, soy and brown sugar and thought the lemon and worcestershire added lovely notes. That alone would have merited 5 or 6 stars. My biggest challenge on taste was the cilantro as I thought the herb, clashed rather than complimented, the other elements in the marinade. Bunch is a rather amorphous term and perhaps I used too much but the flavor simply did not work for me. I would try the milder parsley or just omit altogether next time. Definitely a great way to enjoy tenderloin. As far as preparation, I have no grill and used my favorite indoor method which is to pan sear with high heat then pop the cast iron pan still sizzling into a 400 degree oven for 15 minutes. The sear gives you a nice crust and seals in all the moistness from the marinade.
In a shallow glass casserole dish, combine bourbon, brown sugar, soy sauce, cilantro, lemon juice, Worcestershire sauce, water, and thyme, stirring until the sugar is dissolved.
Add the pork, cover, and marinate in the refrigerator, turning occasionally, for 8 to 12 hours.
Preheat the oven to 450ºF.
Coat a baking sheet or the bottom of your roasting pan with tin foil, making sure the entire sheet is covered. The marinade tends to burn on and it's a pain to wash.
For tenderloin: Place the tenderloins, side by side without touching, on a wire rack in a shallow roasting pan.
For chops: Place pork chops on a baking sheet.
Roast for 30 minutes, or until a meat thermometer registers 160ºF, basting occasionally with the marinade. Discard any unused marinade.