diner524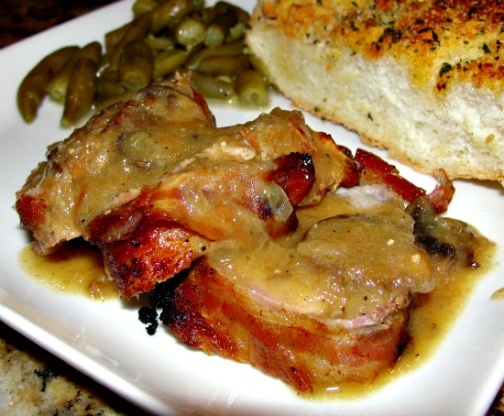 A Graham Kerr creation for New Zealand as seen on the Galloping Gourmet. Found this on Food Network and posting for ZWT.
4

(680.38 g) pork tenderloin, trimmed
salt and pepper

8

slice bacon

59.14

ml olive oil
freshly ground white peppercorns, to taste

354.88

ml mushrooms, sauce recipe follows
lemon, to garnish
parsley, to garnish
mushroom, sauce

14.79

ml clarified butter

1

small onion, finely diced

113.39

g mushrooms, tops finely sliced, stems finely chopped

29.58

ml arrowroot

59.14

ml dry white wine

295.73

ml hot water
meat, concentrate to taste

1

lemon, juiced

1

sprig parsley, leaves chopped
cayenne pepper, to garnish
Preheat broiler. Stick a skewer down center of pork fillets from thick end Season with salt and pepper and wrap with strips of bacon.
Brush with oil and broil about 8 minutes each side.
To serve, slide from skewer and slice into medallions.
Serve in sauce garnish with lemon and parsley
MUSHROOM SAUCE:
Melt butter in saucepan over low heat. Add onion and cook until tender Add mushroom stems and continue to cook.
Mix in arrowroot and then white wine, hot water, and meat concentrate Bring to a boil.
Add sliced mushrooms, lemon juice, parsley and cayenne pepper at last moment.