pines506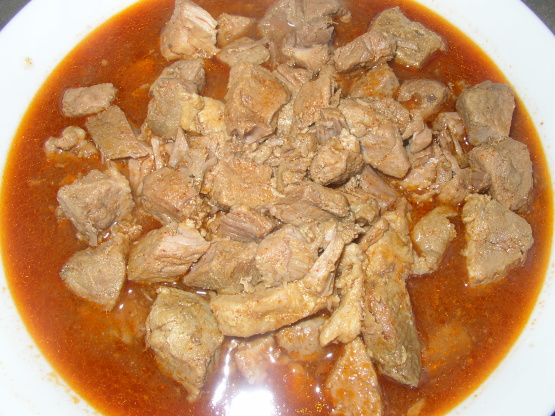 This is the best pork taco meat I've ever had. This is another recipe from my MIL. It is great served over spanish rice and just eaten with tortillas on the side. The longer this cooks, the better it is.

Top Review by Kasha
I made this yesterday with about 2 kilos of fresh ham to start, trimmed, of course. I cooked 30 minutes without the spices, then 2 hours with. At the end, the meat was still pretty much hanging onto its cube state, so I took a scissors to it in the pot and sort of chopped things up, which was easy to do. Maybe make the cubes smaller? I know have quite a bit of pork taco meat! Some will go over the rice, as suggested for lunch today, some I think I'm going to cook down with BBQ sauce for bbq sandwiches, and it looks like it will freeze well. I may add a bit more spice, we'll see after it has been in the fridge overnight. I'm in France, so this kind of food is a surprise to everyone. I'm looking forward to finding different ways to use the meat!
Cube the pork steaks, cutting off much of the fat.
Brown the meat (and bones) in the oil.
I usually let it go for about 30 minutes or so.
Drain.
I drain into a measuring cup and refrigerate, so I can scrape off the fat and put the juice back in.
Add the seasonings, tomato sauce and water to cover (enough so you'll have a good gravy) Cover and let go until pork is tender.
40 minutes should do it, but I usually let it go and hour or two, so the pork just melts in your mouth.