Parsley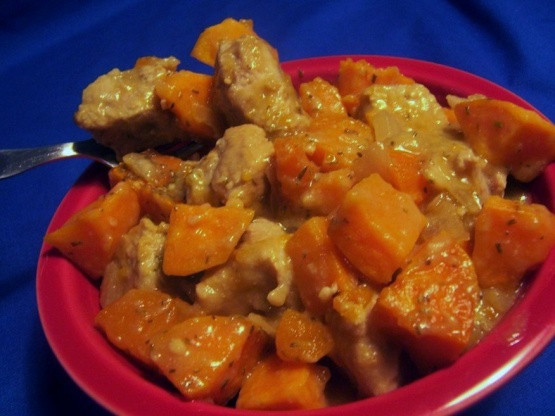 Can adapt this for the crockpot after the skillet steps.

This is simply a wonderful dish! Thank you, my Mom had been asking for it, and I had no memory of her ever making it. She says it is very much like what her Mother used to make. You helped me make an old lady's day! Holly
Preheat oven to 350 degrees F. Lightly grease/spray a casserole dish.
Combine brown sugar and flour in a bowl.
Place mustard in a seperate bowl; coat pork cubes in mustard, then in the flour/brown sugar mixture.
Heat the oil in a large skillet, and brown pork cubes on all sides.
Transfer browned pork cubes to a large casserole dish.
Put onions and garlic in the skillet and cook until softened (but not brown); add the broth, sherry, sweet potato cubes, and seasonings to the pan, and bring to a boil. Pour into the casserole dish.
Cover and bake for 50 minutes, then uncover and bake an additional 15-20 minutes or until meat is done and sweet potatoes are tender.