Parsley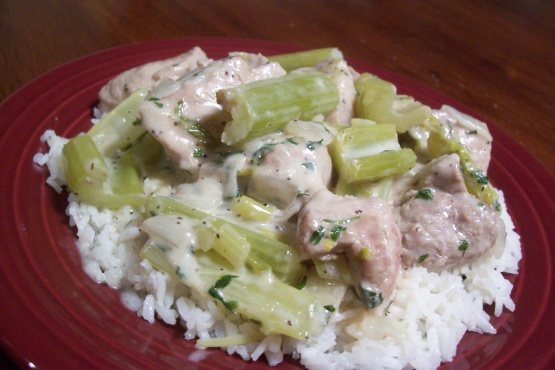 This is a wonderful, easy dish. The meat comes out tender and the taste is great. My family likes to have it served over cooked noodles. A good money saving recipe. I have always made it using chicken broth.

My family loves this recipe. It tastes so good and is so easy and relatively inexpensive. I'd gotten it some years ago with a subscription I had to My Great Recipes. We usually serve it with buttered noodles. We like dark rye (pumpernickle) with it as well as a salad of romaine lettuce. It tastes even better the next day!
Cut meat into 2-inch chunks, trimming off excess fat.
Slowly brown meat and onions in the butter using a large, heavy skillet, or a heavy, enamelled and cast-iron pot that has a lid.
Add celery to meat.
Sprinkle with salt and pepper.
Add wine or broth and water.
Cover.
Simmer slowly for 35 to 45 minute or until meat is very tender.
Meanwhile, blend the flour into the whipping cream until smooth and free of lumps.
When meat is tender, add flourcream mixture.
Bring to a boil quickly and cook until thickened, stirring.
Sprinkle with chopped parsley before serving.