Bergy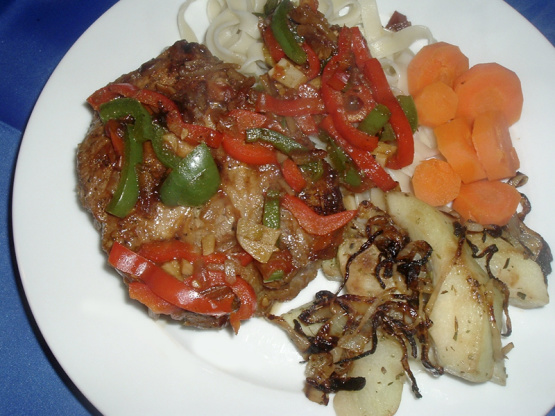 This is one of the Zaar recipes that I adopted. I hope to prepare this one soon and will post any modifications that I make to the recipe.
This was a good recipe. However, it was a few too many peppers for me, but the flavor was great. I added a little more garlic to give it a little more punch.
2

tablespoons green olives or 2 tablespoons vegetable oil
1 1⁄2 lbs pork blade steaks, Pork Steaks should be cut 1/2 inch thick. There should be 4 to 5 of

1

pepper (3 Total;There should be 1 Med Pepper of Red, Green and Yellow Sweet Peppers)

1

clove garlic, finely chopped

1

medium tomatoes, Coarsely Chopped

1

envelope onion soup mix

1

cup water
1⁄2 teaspoon thyme leaves
1⁄8 teaspoon pepper
In large skillet, heat oil and brown steaks over medium-high heat.
Remove steaks.
Reduce heat to medium, into skillet, add peppers and garlic and cook 5 minutes or until peppers are crisp tender.
Stir in tomato, then onion soup mix blended with water, thyme and pepper.
Bring to a boil.
Return steaks to skillet and simmer, uncovered, stirring sauce occasionally 25 minutes or until steaks and vegetables are tender.