Pork Steaks With Cider Ginger Sauce
twissis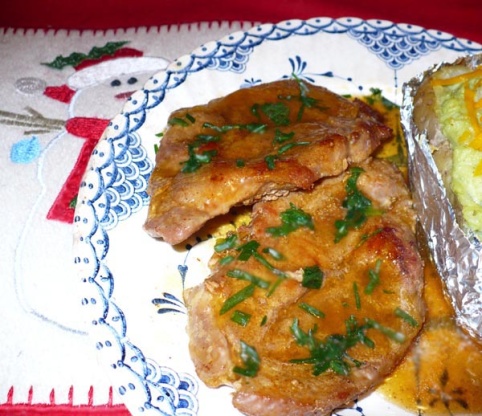 From Australian Better Homes and Gardens. Alcoholic or non-alcoholic cider is suitable for this recipe. If you use alcoholic cider, add it to the pan before thickening and boil rapidly to evaporate the alcohol. Mix the cornflour with 1 tablespoon water and stir into the cider.

This was good. It was easy to make. I had all of the ingredients on hand. I like ginger, so I added more. ( had mine with mashed potatoes. I will be making this again. Thanks for a good recipe Amanda. Made for the Feb "08 Bevy Tag Gane.
Heat the oil in a frying pan and add the pork. Cook over medium heat for 2-3 minutes on each side, or until tender, turning once during cooking. Remove and keep warm.
Add the ginger to the pan, stirring and scraping with a wooden spoon.
Place 1 tablespoon cider in a small bowl, add the cornflour and stir until smooth. Add the remaining cider, mix well, and add to the pan.
Bring to the boil, then reduce the heat and simmer, stirring for 2 minutes, or until the sauce has thickened and reduced. Stir in the chives.
Pour the sauce over the steaks and serve with steamed vegetables and creamy mashed potatoe sprinkled with extra chives.