Pork Steak and Sauerkraut
Bergy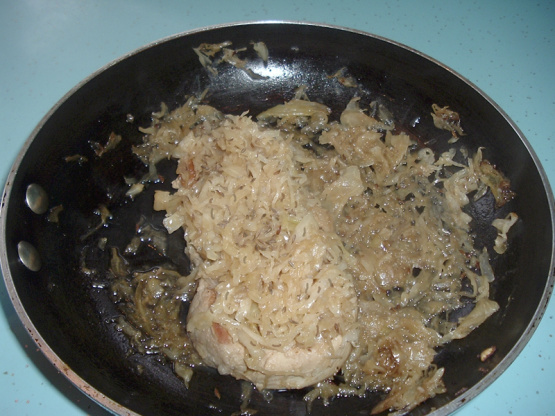 This is for a single portion. It can be doubled or tripled. Be careful with the sauerkraut though. You might not want to triple it. Depends on how much sauerkraut you want. I like lots of sauerkraut with my pork steak.

I love pork with sauerkraut and this was easy and very tasty. Now that I have a single portion recipe I will enjoy it more often! I served RECIPE #264944 on the side and this is a winning combination. Thanks for posting Woofie. Made and enjoyed for PAC Spring 09.
1⁄2 tablespoon cooking oil

1

pork shoulder chop

1

cup crispy sauerkraut, in cello bag (Rinse if desired)
1⁄8-1⁄4 teaspoon caraway seed (optional)
3⁄4 cup beer
Remove excess fat from the pork steak.
Preheat skillet.
Add oil and spread evenly in skillet.
Brown pork steak on both sides-- do not coat with flour.
Add the sauerkraut to the pork steak and spread evenly over the top of it.
Sprinkle the caraway seeds over sauerkraut.
Pour the beer over the pork steak and 'kraut.
Bring to a boil.
Cover with a lid, lower heat and simmer until pork steak is tender and done.(about 30 minutes).
The juice in the skillet might be a little cloudy in color but it is still good.
Put on a dinner plate and enjoy!