mommybre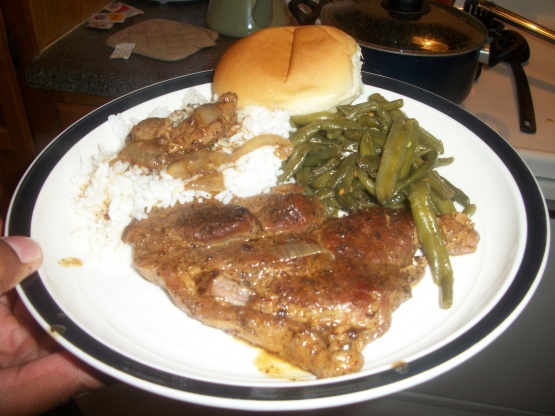 This recipe sounds like a lot of work, but it just the old fashion method of braising. The meat is so tender, and the onions, are sweet in taste. A really large electric fry pan, works the best. I sometimes add sour cream to the liquid, the last 10 minutes or so, for an even richer taste.

I took some liberties with this recipe, but I was very pleased with the outcome. I used 2 pork steaks and 2 big Maui onions. Instead of the water, I used 2 cups of homemade chicken stock, and added a handful of peeled garlic cloves and a couple of sprigs of fresh thyme. The garlic got very soft by the end of the cooking time, and at the end of cooking, I mashed it into the sauce. There was a lot of liquid left in the pan after the 1 1/2 of simmering, so I took the pork out, raised the heat to high, and let the liquid reduce until I had a rich, thick sauce. This is a definite make again! Thanks for posting!
3 -4

pork steaks, bone in

3

large onions, sliced wedge style
Season both sides of pork steaks with salt, pepper and garlic powder to taste.
Spray electric fry pan or very large skillet with cooking spray.
Heat to 375 degrees.
Brown both sides of steak.
When meat has been browned and starts to stick a bit, add two cups water.
Cover.
Cook for 15 minutes.
Turn.
Add water as it slowly cooks down.
Always scraping up browned bits.
Cook another 15 minutes, turning if necessary.
Cover all the meat with onions.
Add water again to keep level at 1/2 inch or so.
Cook 15 minutes, turn meat, poke onions into liquid.
Add more water if necessary.
Keep cooking until onions are cooked all the way down, almost carmelized.
Let liquid cook almost all the way down, again.
Add just a cup of water.
Scrap all bits and remove from pan.
Serve with onions and juice on top.