Pork Schnitzel With Noodles and Browned Cabbage
vrvrvr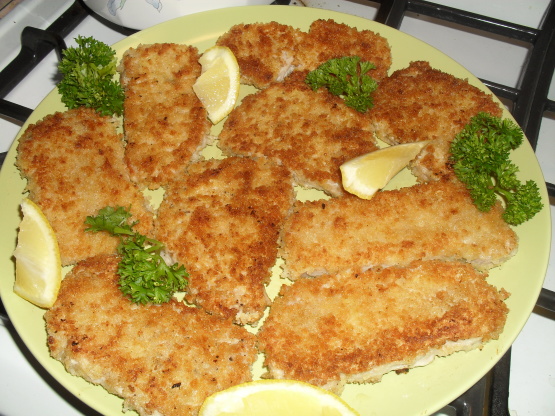 Cooking Light Magazine, Jan/Feb, 07 issue. I have had this saved for a special occasion and the night before the inauguration of the 'Cafe Ponce' we had this meal. It was also to try it out for the newer menu. The meal was scrumptious! Absolutely delicious!

Top Review by vrvrvr
We really wanted to love this based on the description and previous review, but it was too lackluster in flavor. I increased amounts to serve a larger crowd. The noodles, having been made first, got cold and congealed. I added more sour cream and held them in a warm oven, but they were very drab. (It really didn't feel right to boil them in saltless water, too.) I used panko crumbs for the pork schnitzel, which made for a beautiful and crunchy coating. I think the flavor of the schnitzel would have been better if some butter had been used along with the oil. Plus, it didn't call for nearly enough oil to fry the pork to obtain a golden finish. This dish was disappointing. Sorry!
NOODLES:.
Cook noodles according to package directions, omitting salt and fat.
Drain.
Combine noodles and sour cream in a large bowl, tossing well to coat.
Just before serving add chopped fresh parsley leaves.
CABBAGE:.
Heat 1 teaspoon oil in a large nonstick skillet over medium heat.
Add cabbage, onion, sugar, 1/2 teaspoon salt, and 1/8 teaspoon pepper to pan & smidgen of crushed red pepper flakes(if using); cook 6 minutes or until cabbage is wilted, stirring occasionally.
Add caraway seeds, if using (they are strong so use sparingly).
Add broth; cook 6 minutes or until cabbage is lightly browned.
Stir cabbage mixture into noodle mixture.
Wipe pan clean with a paper towel.
PORK:.
Cut pork crosswise into 12 (1-inch-thick) pieces.
Place each piece between 2 sheets of heavy-duty plastic wrap; pound to 1/4-inch thickness using a meat mallet or small heavy skillet.
Sprinkle pork evenly with remaining 1/2 teaspoon salt and remaining 1/8 teaspoon pepper, and crushed red pepper flakes if using.
Place flour in a shallow dish.
Place egg whites in a shallow dish.
Place breadcrumbs in a shallow dish.
Dredge 1 pork cutlet in flour.
Dip in egg whites; dredge in breadcrumbs.
Repeat with remaining pork, flour, egg whites, and breadcrumbs.
Heat 1 teaspoon oil in large nonstick skillet coated with cooking spray over medium heat; add 4 pieces pork to pan.
Cook 3 minutes on each side or until pork is lightly browned and done.
Remove pork from pan.
Repeat procedure twice with remaining 2 teaspoons oil and pork.
Serve with cabbage/noodle mixture, & lemon wedges.