Pork Schnitzel With Lemon-Caper Cream
diner524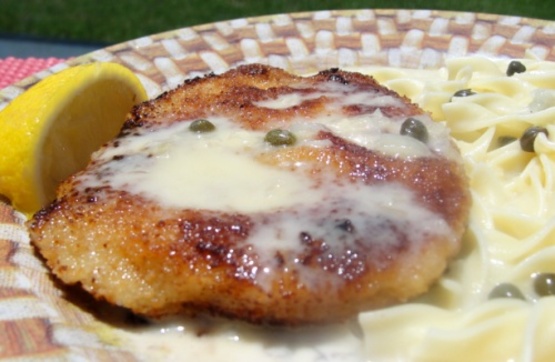 Recipe from Michaela Rosenthal, winner of The National Pork Board's "America's Favorite Family Recipes Contest" in celebration of National Eat Dinner Together Week.

This was a keeper we both enjoyed it. I had a few pieces left over and figured that we could have them for lunch , but no we ate them. I served this with buttered small potatoes and warm spinach salad.The balance of the sauce I will use for some fish. Thanks for posting. Made for zwt6 for the Xtra hot dishes
Pound pork circles between pieces of plastic wrap to flatten to 1/4 inch thickness.
Sprinkle both sides of medallions with lemon juice.
Combine flour and poultry seasoning in shallow dish. Coat medallions with flour mixture; shake off excess flour and set aside.
In a deep pie plate, beat the eggs and mix in the mustard.
Place bread crumbs in another pie plate. Dip the pork medallions into the egg mixture; coat well with bread crumbs.
Place in refrigerator for 15 minutes.
For the cream sauce, melt the butter in a small heavy saucepan.
Add shallots and sauté over medium heat until fragrant (approximately 2 minutes).
Remove saucepan from heat; add the wine, chicken broth and cream.
Return saucepan to heat and bring to a boil.
Reduce heat to medium-low and simmer, uncovered, for 12 to 15 minutes to reduce by half.
Meanwhile, heat 1 tablespoon of oil in a large heavy skillet.
Add half of the medallions; fry over medium-high heat on both sides for 1-2 minutes or until no longer pink.
Transfer to a plate and tent with foil. Repeat with remaining oil and medallions.
Remove sauce from heat and stir in lemon curd & capers.
Serve with buttered spaetzle and garnish with lemon wedges.