Stacy B.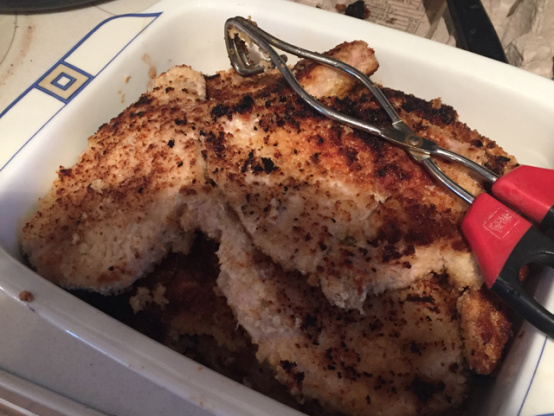 This is an old family recipe that's simple but so delicious.

Top Review by Bergy
I used a boneless tenderized pork Schnitzel, lots of onions and it was great - Plain easy ingredients that anyone can whip together. When the schnizel is getting just the right golden color slip the onions under them turn to low and let those onions get that carmelized look - Loved the recipe I may throw in a little chili flake or worchestershire next time but I loves it as is Thanks Kree
4

thin-cut pork chops or 4 butterfly pork chops

1

egg, beaten
breadcrumbs

1

onion, sliced
Pound pork chops very thin.
Salt and pepper each chop.
Dip in beaten egg.
Dredge in bread crumbs.
Put in frying pan with onion slices and saute in margarine, about 2 Tbsp at a time, to a golden brown on each side.