Bergy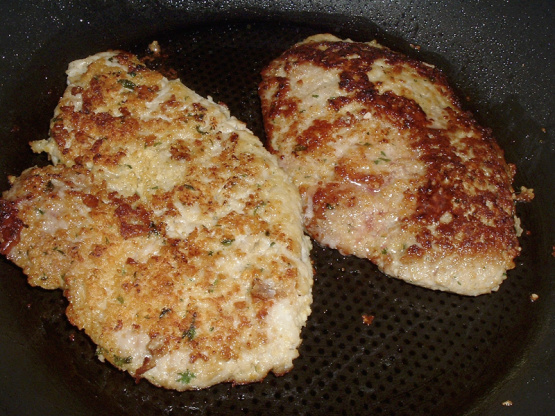 I love to eat out and I think that this is even better than the schnitzel we can get at our local German restaurant. I found the recipe on the RecipeSource web site.

Top Review by mbwolf
I love this. I spent three years in Germany and I love schnitzel. The sauce is outstanding. I made this according to the recipe, but have a hard time finding pork cutlets. I have a butcher that has pre-breaded pork cutlets or veal cutlets (1/3 veal, 2/3rd pork). It saves a ton of time and they work great with the cooking method and the sauce, but require a little extra cooking time (about 4-5 minutes per side). Absolutely a keeper recipe, thanks!
Pound pork to 1/4 to 1/8" thick.
Mix 1st amount of flour with seasoned salt& pepper.
Mix egg and milk.
Mix the bread crumbs and paprika.
Coat meat with flour, then dip in egg mixture and then the bread crumb mixture.
Allow to set on a wire rack for 10 mins.
Brown quickly on both sides in shortening in a large skillet.
(about 2 to 3 mins per side) Remove from pan and keep warm.
Pour broth into skillet, scraping to loosen crusty drippings.
Blend the flour and dillweed into the sour cream.
Stir mixture into the broth.
Cook and stir until mixture is thickened; do not boil.
Serve with pork.