Bergy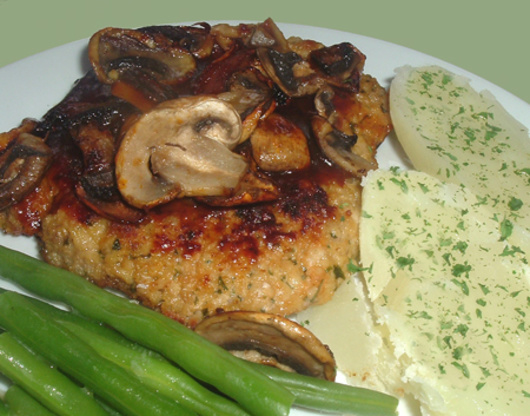 When my family lived in Germany I loved all the different schnitzels (rahm schnitzel, jaeger schnitzel, etc.). This recipe was printed in a Publix ad. I tried it and it tastes very similar to the basic schnitzel we ate in Germany. It's good by itself, but is fantastic topped with a cream sauce or mushroom sauce. The recipe directions say to cook two at a time, but I was able to cook all four at one time by using my big electric skillet rather than using a saute pan.

So yummy -- my guests all loved them, and each ate a HUGE chop. I used pork chops from Costco, the really thick kind, and couldn't pound them thin enough, so I had to finish them in the microwave. Next time, I'll slice those in half (thickness-wise) before I pound them. There will definitely be a next time!
1

cup flour

1

cup plain breadcrumbs

2

eggs (or 1/2 cup egg substitute)

4

pork cube steaks (1 1/2 lb) or 4 pork chops (1 1/2 lb) or 4 pork tenderloin (1 1/2 lb)

2

teaspoons kosher salt
1⁄4 teaspoon pepper

4

tablespoons canola oil, divided
Place flour in shallow bowl; bread crumbs in second bowl. Beat eggs gently in third bowl until blended.
Preheat large sauté pan on medium-high 2–3 minutes. Season both sides of pork with salt and pepper. Dip pork in flour (coating both sides) then dip into egg mixture (allowing excess to drip off). Finally dip into bread crumbs.
Place 2 tablespoons of the oil in pan; swirl to coat. Place 2 pork steaks in pan; cook 4–5 minutes on each side or until internal temperature is 160°F (for medium). Use a meat thermometer to accurately ensure doneness.
Remove pork steaks from pan; cover to keep warm. Repeat steps with remaining 2 tablespoons oil and 2 pork steaks. Serve.