Pork Scaloppine over Greens With Summer Fruit Salsa
Rita1652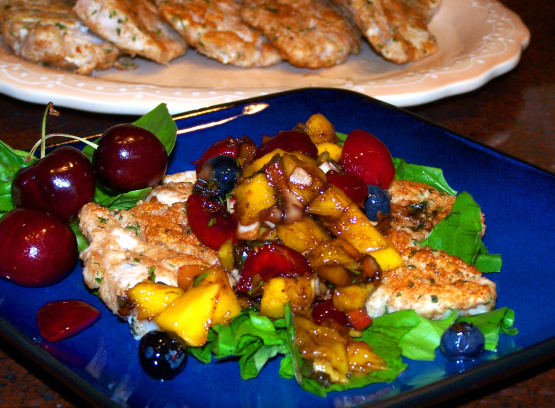 A No Sweat, Low fat, Low Carb, Fresh Summer meal. Pork is much more economical then the veal. Just as quick to make, very tender and tasty. Can't find scallopini just use semi frozen loin or center cut pork chops slice thin and pound to tenderize. Or use Chicken same method and cook times.

As someone with a deep fondness for pork with fruit, I was hoping that there would be a recipe featuring this pairing. So this recipe instantly went into my "must try" cookbook. I used pork tenderloin sliced about 1/2 inch this and made lovely thin pieces with a light pounding. They cooked in a matter of minutes and were tender and delicious. The salsa has fantastic components and I love the way the mango brought the cherries and blueberries together. Did think there was a little too much onion. That said it seemed that the other items did not work as well together. I used basil - listed as one of the herb options - and found that while it worked with the fruit and balsamic it clashed with the ginger and jalapeno. My guess is cilantro would have worked better but think that to might have clashed with the balsamic which has a potent flavor. Might be a case here where less would have been more and choosing just one or two additional items would have improved the overall results. Thank you for a tasty culinary adventure. Good luck.
Summer Salsa

1⁄2 cup balsamic vinegar
1⁄4 teaspoon Splenda sugar substitute
1⁄2 cup fresh blueberries, washed and drained
3⁄4 cup fresh cherries, washed, drained, pitted and quartered

1

mango, peeled and diced
1⁄3 cup sweet onion, diced

1

teaspoon fresh jalapeno, minced
1⁄4 teaspoon fresh grated gingerroot

1 -2

tablespoon cilantro (mix of fresh herbs mint, basil and or parsley)

Scallopini

1

lb thinly sliced pork cutlet (scallopini, 3/4 inch thick)

2

egg whites, whisked

1

teaspoon dried parsley
salt and pepper
1⁄3-1⁄2 cup whole wheat flour

1

tablespoon butter

1 -2

cup baby greens, washed and dried
Summer Salsa:.
Heat balsamic vinegar and splenda to reduce to 1/8 cup at which point will be syrupy. Set aside.
Mix the remaining ingredients together and top with hot balsamic syrup.
NOTE- If you want to preserve the bright color of the mango mix it in just before serving.
Chill for 1 hour for flavors to coalesce.
Scallopini:.
Meanwhile flatten the meat under plastic wrap with a pounder until pieces are about 1/4 inch thick.
Place flour, salt and pepper in a bowl mix in parsley.
Lightly season veal with flour mixture, shake off excess flour dip in egg white then back in flour.
In a hot large frying pan saute pork in batches without crowding, turning over once, until browned and just cooked through, about 1 1/2 minutes per batch.
Plate pork on a bed of greens topping with chilled salsa.