Pork Scallopini With Butter Caper Sauce
Miss V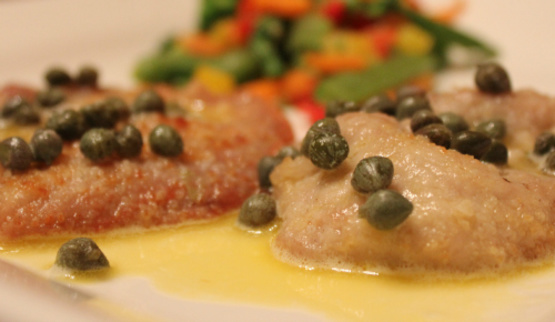 This dish has such a rich, delicious flavor. It's one you will want to make over and over again.

I can't thank you enough for this delicious fast and easy recipe. I didn't have white wine so I substituted chicken broth. Upon reading another review I decided just to pour the excess oil out of the pan and use the drippings to help as a thickening agent. A terrific recipe and the sauce is just wonderful! We loved it! Thanks again!<br/>P.S. I made this again. I bought very thinly sliced boneless pork chops and I didn't have to spend time pounding it out. I added about a tablespoon of flour to the drippings and let it cook for about a minute on Med. low. Then added all the good stuff. It was perfect! There is so much you can do with this recipe!
1. Slice the pork tenderloin into ½ inch slices on a diagonal.
2. Pound thin between plastic wrap with a meat mallet.
3. Sift together the flour and salt.
4. Lightly dredge the pork and shake off any excess flour.
5. In a large skillet, heat the olive oil over medium heat.
6. Cook the pork 2-3 minutes on each side or until golden and transfer to a warm plate.
7. Wipe out skillet.
8. Heat a tablespoon of butter in skillet.
9. Add the capers, white wine and lemon juice.
10. Allow to reduce just a little before adding the final tablespoon of butter.
11. Mix slowly to incorporate and remove immediately from the heat.
12. Spoon the sauce over the pork and serve.