ChefLee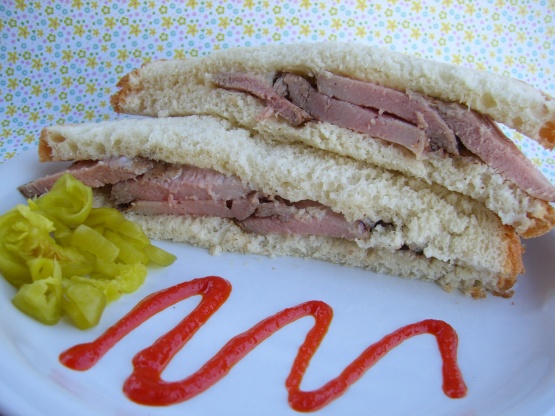 I don't know if anyone else will like this, but I do.
2

slice sandwich bread

14.79-29.58

ml mayonnaise (or to taste)

14.79-29.58

ml sweet pickle relish (or to taste)

4.92-9.85

ml sriracha hot chili paste (optional)

56.69

g sliced onions (or to taste)

85.04

g roast pork or 85.04 g boiled pork, chilled and sliced to sandwich thickness
salt and pepper
Spread both bread slices with mayonnaise.
Spread pickle relish over the mayonnaise on both slices of bread.
On bottom slice, lay pork slices, then onion slices on top of pork.
Squirt optional Sriracha chili paste over the pork.
Place top slice of sandwich over the pork.
Carefully cut sandwich in half with very sharp knife, being careful not to pull the sandwich apart as you cut through the pork.
To do this press down gently with hand on sandwich as you gently cut straight down without too much sawing motion through the pork.
Pork will tend to resist cutting but just take it slow and it will go through.
Once it is halved, serve on plate with your favorite accompaniments, such as potato chips and soft drink.