Pork Roast With Veggies (Crock-Pot)
WiGal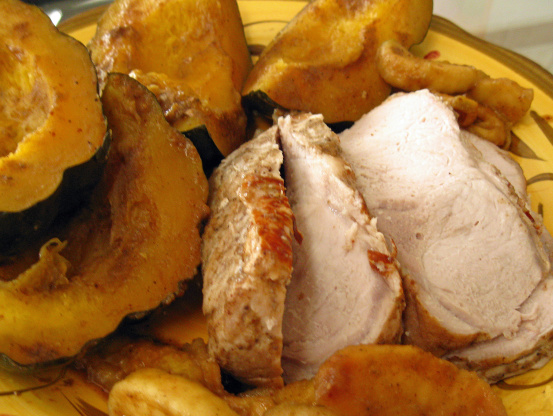 Not sure where I found this online, but I altered it (for fat/calorie content) and we really love this. I use my own homemade apple butter for this that I love! :) Enjoy and if you figure out where this came from, let me know!

Top Review by WiGal
Very moist! I cooked a 2 1/2 # boneless pork loin for 6 hours not 7 in an old 4 quart Rival lined with liner. And my roast was not totally defrosted before searing so wonder if 5 hours would have been more on the mark? Hard though if you work a job and need food to cook while at work. I used one small acorn squash cut into 4 pieces and it was definitely done. I think butternut or buttercup would taste better in this and would have bought that instead if the store had had it. Considering that I had downsized the veggie I should have also reduced the liquid by half-my mistake. Added in dried apple slices to this and even the ones above the liquid plumped up so there is quite a bit of moisture in this. Thank you Sarah Beth for sharing.
Heat oil in a heavy skillet and cook pork roast until browned on all sides, turning occasionally. This should take about 10 minutes.
While that's cooking, cut the acorn squash into 8 wedges and remove seeds. Do not peel. Peel sweet potatoes and cut into chunks. Place squash and sweet potatoes in 6-7 quart slow cooker. Top with browned pork roast.
In a small bowl, mix together apple butter, horseradish, cornstarch, allspice, pepper, chicken broth, and thyme. Pour into slow cooker.
Cover crockpot and cook on low for 7-9 hours until pork and vegetables are tender.