Pork Roast With an Orange Glaze (Southern Living Magazine)
Luschka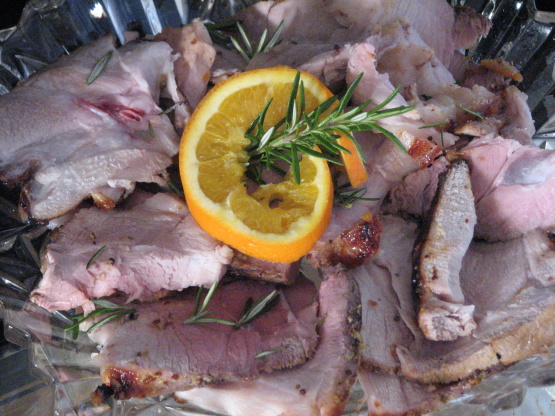 This recipe is very light and healthy. It's a simple yet very elegant recipe to make during the holidays or anytime.

I happened to have a bone-in roast, so my cooking time was longer. However, I'm not sure what sort of drippings one would get from today's pork. The instructions SHOULD have you glaze the roast with15-20 mins to go. I followed instructions and got an oven full of smoke from burnt marmalade. I had no useable drippings for gravy and a big mess. The roast was tasty but gravy was impossible.
Place roast on a rack coated with cooking spray in roasting pan. Rub roast with salt and pepper and set aside.
Heat marmalade in microwave on high 10 seconds or till melted. Add mustard and rosemary, stirring till blended. Brush mixture over roast.
Bake at 425°F for 45 minutes (or until meat thermometer registers 155 degrees).
Remove roast from pan, cover with foil and let stand for 10 minutes. Meanwhile, place roasting pan on stove top over medium heat and sprinkle flour over juices. Gently and constantly whisk and cook for 1 minute.
Add broth, and cook 5 more minutes, whisking constantly until mixture thickens. Serve with sliced pork.