Pork Roast Guadeloupe (Caribbean)
teresas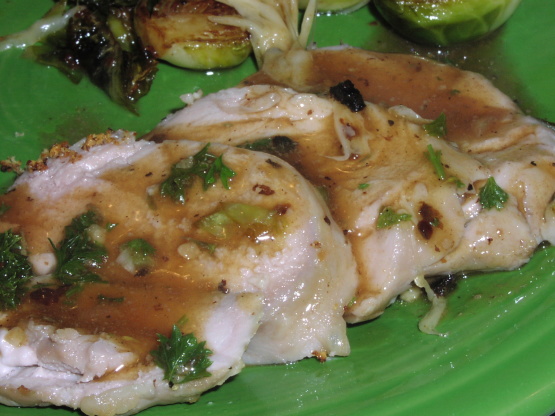 This recipe was found on the internet site recipeisland.com. Preparation time does not inclued the time needed for the meat to marinate.

We quite enjoyed this. I did use pork tenderloin and did not make the sauce because the weather here was so nice that I just had to use the grill. Made as a reward for the winner of February 1~2~3 Hits Fall in Love with Red.
To make the marinade, combine water, onion, garlic, lime juice, olive oil, jalapeno pepper, the 1/2 teaspoon of crushed dried thyme, salt & pepper.
Place pork loin in a plastic bag & pour the marinade over the pork loin. Close the bag securely & put the meat in a bowl in the refrigerator for up to 6 hours, occasionally rotating the bag to allow the marinade to coat the meat.
About 10 minutes before the marinating is finished, preheat the oven to 350 degrees F.
When finished marinating, take the pork loin out of the bag & put it on a rack in a roasting pan, while setting aside the marinade.
Roast the loin for at least 50-60 minutes or until desired doneness (at least 165 degrees on a meat themometer).
Remove meat from the pan & cover with foil, letting it stand for 10 minutes.
Meanwhile strain the remaining marinade into a small sauce pan.
Deglaze pan with 1/2 cup of the beef broth, then pour this broth mixture in with the strained marinade, along with the 2 teaspoons of sugar & the 1/4 teaspoon of crushed dried thyme.
In a small container combine the rest of the beef broth with the cornstarch, then add this to the sauce pan, cooking & stirring until thickened & bubbly, about 5 minutes. Stir in the parsley, then remove from heat.
Slice the meat & serve it with the sauce.