JustJanS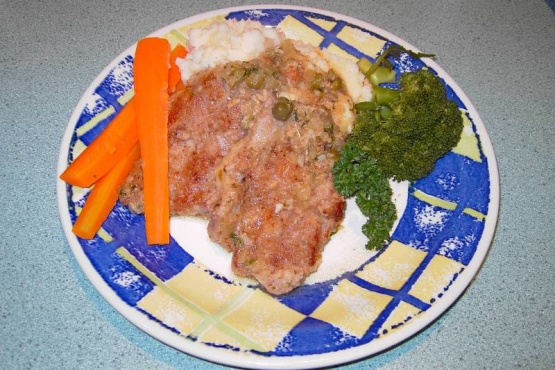 This is one of my husband's favorite recipes. He considers this comfort food. I found this recipe in a magazine (can't remember which) and made a few tweaks to suit our tastes. I typically serve it over garlic mashed potatoes to catch the delicious lemony sauce. I hope you enjoy it as much as we do.
The recipe has all the elements of flavor but using that much chicken broth simply washed the bread crumbs from the pork. I think perhaps a little white wine, less chicken broth and a bit of corn starch to add the right consistency to the sauce. It does go well w/roasted cauliflower as a side. It is a recipe that I will build on and the idea of using pork rather than veal is good especially since my husband loves pork and veal is not something that I can come by easily where I live. Thanks for the idea
Slice tenderloin into 1/2 inch pieces.
Dredge in breadcrumbs.
Heat olive oil on in a large skillet to medium high heat and brown pork for 3- 4 minutes each side until golden brown.
Remove pork from pan and reduce heat to medium.
Add shallots and garlic to pan and cook for 45 seconds.
Add broth and lemon juice, scraping pan to loosen any browned bits.
Stir in parsley, capers and pepper and simmer 2 to 3 minutes.
Return pork to pan and cook 5- 10 minutes until thoroughly heated.
Serve over garlic mashed potatoes or rice.