Rita1652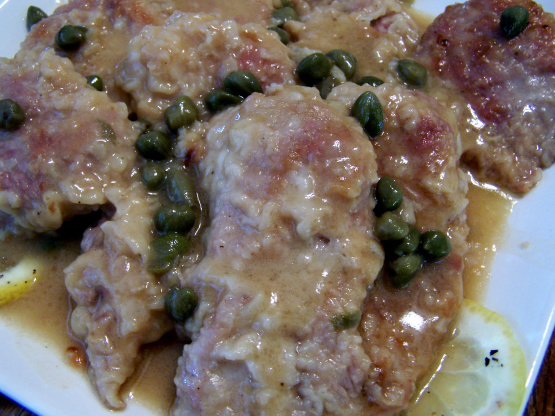 This recipe came from a Time-Life recipe book and originally called for veal; however, since veal is so expensive and difficult to come by, I use pork with the same very tasty results. I like to serve this with crusty French bread and a green salad.

I rated this recipe a 5 star. I too love Veal Piccata and find that veal is too expensive. I didn't have any pork chops but I did use pork lion instead. I doubled the recipe for leftovers and at the end of the meal my leftovers were gone. My 4 year son had four slices. This was easy make and the taste was awesome.
Pound chops between sheets of plastic wrap with flat side of meat mallet.
Cut meat into bite-sized pieces.
Mix flour, salt and pepper.
Dip pieces in flour mixture.
Cut 6-8 paper thin slices of lemon.
Set aside.
Squeeze remaining lemon for juice (you should have about 1/4 cup).
Brown pork pieces in olive oil and remove from pan.
Pour in 1/2 cup of broth and deglze pan, Turn heat down to simmer, return meat to pan and place lemon slices on top of meat.
Cover and simmer for 15 min.
Remove lemon slices and discard.
Remove meat from pan and keep warm.
Add remaining broth, simmer for about 5 min.
then add lemon juice, simmer a little longer; add a small blob of butter to the pan and swirl.
This adds a nice gloss to the sauce.
Return meat to pan to warm.