Pork, Orange and Sage Meatloaf
Zurie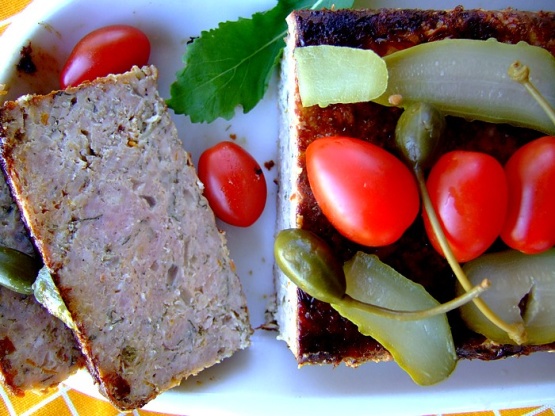 I think this is a Russell original! He made this for dinner last night, and I wanted to write it down as it was very good. Leftovers cut really well for sandwiches this morning too.

We really enjoyed this meatloaf, first time I've made one out of just ground pork. Very happy with it, especially the orange/sage taste. The pork, orange and sage really complimented each other. It sliced beautifully and the left overs will make great sandwiches for lunch tomorrow. Thanks for sharing a good one!!
Mix all the ingredients together in a large bowl-I find this easier with clean hands.
Place in a greased loaf tin and bake in a moderate (180c/350f) oven for 1 1/2 hours.
Cover for first 1 1/4 hours with aluminum foil, then remove foil for final 15 minutes.
Drain away any liquid at this time too.
Allow to rest in the tin for about 10 minutes before slicing.
Nice served with Evelyn/Athens Onion, Apricot and Raisin Relish.