flower7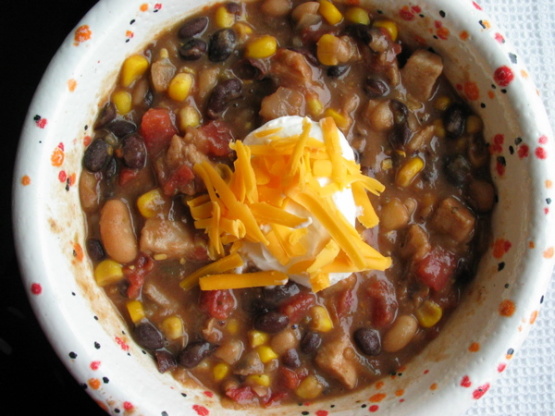 I am posting this because I don't want to forget this!!! It used up the leftover pork roast and everyone liked it even better than the original meal...go figure. :) I made it again later with leftover pork tenderloin, too. It's great with corn tortillas or cornbread. Best of all it was quick and easy and my four year old spice-o-phobic liked it. The can sizes I guessed; they're just the standard size. This froze beautifully, too. And it is six GENEROUS servings.

This is an excellent recipe! My family loved it and it offers a little different taste from the standard chili. A very nice way to use leftover pork roast. Thanks for the recipe. Carole in Orlando
Saute onion in olive oil til soft and golden.
Add beans, salsa verde, chicken base (I like "Better Than Bouillon"), and tomatoes to pan and simmer for about 20 minutes.
Add corn, cilantro and pork and simmer til heated through and slightly thickened (about ten to fifteen minutes). Stir in lime or lemon juice.
Eat up!