Pork Medallions With Mushroom Sauce
Cutting the boneless chops into medallions and baking them in a creamy bath is a great way of overcoming the meat's inherent dryness. Sour cream provides plenty of moisture and richness, serving as the ideal flavor for sliced fresh mushrooms. Can be served over rice or noodles, if desired.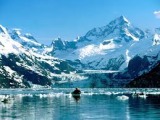 Great family-style, comforting meal. I suggest serving it over noodles, beacause there is a lot of sauce. The sauce was so delicious mixed into the noodles! The pork was moist and flavorful. I had decided to leave my pork chops whole. I couldn't find the McCormicks Crusting Blends (I was looking where the bread crumbs and panko are located in the store), so I used seasoned bread crumbs. Next time, I'd really love to try it with the crusting blends, if I can find them. Great recipe! ~Made for TYM Tag in the Cookbook forum~
Preheat oven to 325.
Cut each boneless pork chop into 2 pieces.
In a shallow dish, combine the egg, water, rosemary, pepper, and garlic powder.
Put the McCormick's Crusting Blends into a ziploc gallon bag. (I use the garlic, lemon and rosemary flavor, but you can use which ever you desire, or for that matter just seasoned bread crumbs).
Dip the pork into the egg mixture, then into the bread crumbs, shaking until well coated.
In a large skillet over medium heat, brown the pork in the oil for 5 minutes on each side. Remove to a 9 x 13 baking dish; keep warm in the oven.
In the same skillet, saute the mushrooms in the butter until tender, 4 to 5 minutes.
Stir in the soup, sour cream, and broth.
Pour mushroom and gravy mixture over the pork.
Cover and bake until the pork is tender and the juices run clear when the pork is pierced with a fork; about 45 minutes.
NOTE: Try this recipe with chicken or turkey cutlets in place of the pork (reduce cooking time slightly). You could even use beef steaks, if you like.