Pork Medallions With Cranberries and Apples
eabeler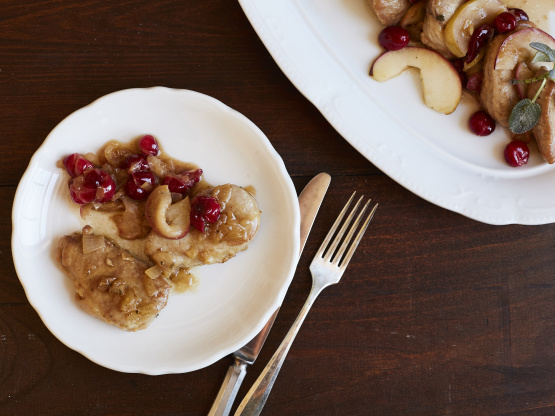 This is very good on a crisp fall night and goes together quickly. Leftovers are good reheated. I got this from a magazine and my husband who isn't a big pork lover really liked it too!

I'm surprised to give this 5 stars. Two reasons it gets the highest rating... 1) hubby loved it and said I can't lose the recipe. 2) I used boneless pork chops with lots of dark meat and there was no strong pork flavor. I don't really like pork and this turned out very tender and juicy... for the first time I think I enjoyed it! I used frozen cranberries, cran-apple juice and rosemary for the sage with good results. I think I cooked it much longer in step 11 but it still comes together quite quickly.
Combine first 7 ingredients in a small bowl and stir well.
Cut pork crosswise into 8 pieces.
Flatten each piece to 3/4-inch thick using a meat mallet or rolling pin.
Coat each piece with flour, shaking off excess.
Heat 3 teaspoons olive oil in a large non-stick skillet coated with cooking spray over medium-high heat.
Add pork and saute 2 1/2 minutes on each side or until browned.
Remove from pan.
Add 1 teaspoon oil to pan.
Add onion, cover, reduce heat, and cook 5 minutes or until golden brown, stirring frequently.
Return pork to pan; add juice mixture, apple and cranberries.
Bring to a simmer, cover and cook 3 minutes or until cranberries pop and pork is cooked through, stirring occasionally.
Garnich with sage sprigs.