Pork Medallions With Cherry Sauce
teresas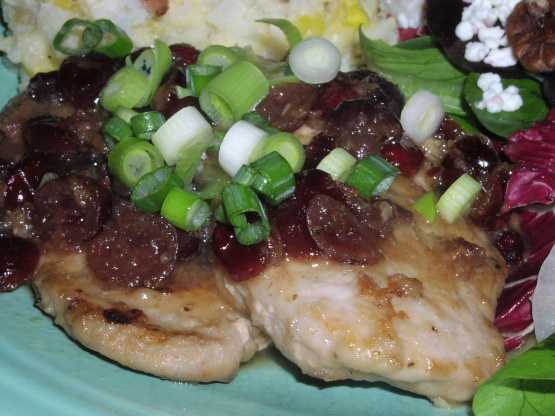 I tried this recipe yesterday. I used dried cranberries instead of cherries. They were cheaper. It's from Cooking Light. This recipe is a hearty meal for 2. I used 1 whole pork tenderloin and it gives more.

This was fantastic!!!!! It was even better than I thought it would be. Totally perfect, well balanced flavors that make you hungry for more. I made for a small dinner that my clients wanted catered, and there wasn't a plate at the end of the meal that didn't look nearly licked clean. I made this with WiGal's Potato Croquettes for the Zaar Stars Tag. Thank so much for sharing!
Combine first 3 ingredients in a heavy-duty, zip-top plastic bag. Add pork slices. Seal bag; shake well. Remove pork from bag, shake off excess flour.
Combine apple juice and next 4 ingredients in a 2-cup glass measure; set aside.
Coat a large nonstick skillet with cooking spray; place over medium-high heat until hot. Add pork; cook 1 minute on each side or until browned. Remove pork from pan.
Add apple juice mixture to pan; bring to a boil, scrapping pan to loosen browned bits. Cook 5 minutes or until sauce is slightly thickened. Return pork to pan, reduce heat and cook 1 minute. Sprinkle with green onions.