Pork Medallions With Cherry Sauce
Peter J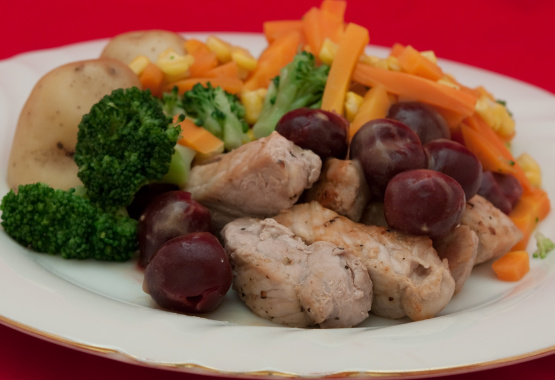 Based on a recipe from BH&G's book, Easy Everyday Low Carb Cookbook. The intro states, "During the autumn months, pork is often prepared with fruit such as prunes or apples. These quick-seared medallions cloaked in a delightful sweet cherry sauce provide a whole new reason -- and season -- to pair pork with fruit." We'll see how 'Zaar's nutritional calculator does, because the book states this is 12g carbs per serving.

Wonderful! Perfect blend of sweetness from the cherries and juice offset by the mustard that really suited pork. I took the photo before spooning over the remainder of the sauce from the pan, but that also really added to the dish and gave an extra dash of moistness to the dish.
Remove fat from pork with sharp knife. Cut pork into crosswise slices 1-inch thick. In a single layer, place the slices on plastic wrap and cover with a second sheet of plastic wrap. Using the heel of your hand, press each slice into a 1/2-inch-thick medallion. Remove plastic wrap. Sprinkle lightly with salt and pepper.
Spray a large nonstick skillet with cooking spray and heat over medium-high heat. Add pork; cook for 6 minutes or until pork is slightly pink in center and juices run clear, turning once. Remove to a warming serving platter.
Mix together cranberry juice, mustard, and cornstarch: add to skillet. Cook and stir until thickened and bubbly. Cook and stir for 2 minutes more. Add cherries into cranberry juice mixture in skillet. Serve over pork.