Pork Loin With Creamy Dijon Yogurt Sauce
Edesia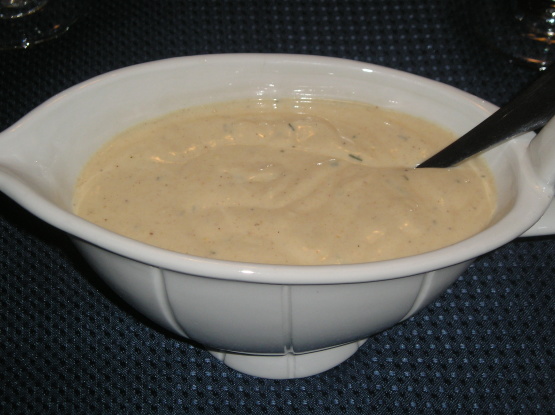 This delicious recipe uses one of my unique sauce combinations.....very creamy, sweet and tangy.

Top Review by Edesia
I have to give this a good review, not because I loved it, but because all of the people I cooked for absolutely raved about it. I actually did use the vanilla yogurt. The only thing I changed was that I decreased the amount of bbq sauce by 1 tbsp only because I ran out. I didn't really like the sauce, but my husband and friends could not get enough and wanted to pour it on everything. My picture is of just the sauce because I forgot to get one of it poured over the pork before it was devoured by my dinner guests.
Preheat oven to 375°F Place pork in small roasting pan. Sprinkle with herbs, garlic, salt and pepper. Cover tightly and bake about 1 hour or until inside is 160 degrees (*Or place all previous ingredients in a foil pack and grill for about 30 minutes or until inside is 160 degrees ).
While pork cooks, whisk together all sauce ingredients in a small bowl; allow to come to about room temperature. When pork is done, slice and top with sauce. Garnish with more dill, if desired.