Pork Loin With Brown Sugar Glaze (Crock Pot)
MollyLin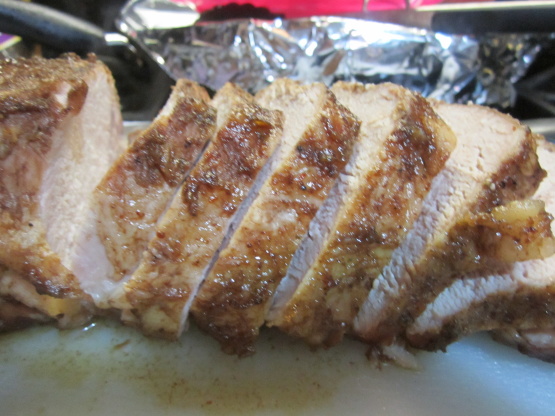 A slow cooker pork roast with a sweet and lightly spiced glaze by Diana Rattray. Sent to me in an e-mail from About.com. (Haven't tried this yet, but it sounds delicious and looks so easy to make.)

This is one of the best recipes I have made in a long time! Phenomenal! I used a 4 lb boneless pork roast but did not trim the fat and put the fat side up. I misread the instruction and put the cinnamon in with the other initial ingredients (1 c brown sugar, mustard and balsamic vinegar) so I skipped the final step of draining the juice and adding the additional 1/3 cup brown sugar. This made fantastic pulled pork leftovers. This is also good for pulled pork sandwiches with BBQ sauce as leftovers. I will be adding this into my regular rotation, thank you for sharing this!
Wash pork roast, trim excess fat, pat dry, and rub with garlic halves. Sprinkle with salt and pepper, then prick the roast all over with a fork or skewer.
In a cup or bowl, combine 1 cup of the brown sugar, the mustard, and vinegar. Rub all over the roast.
Cover and cook on LOW for 7 to 8 hours.
Pour off the excess juices.
Combine the remaining 1/3 cup brown sugar with cinnamon; Spread the mixture over the top of the roast.
Cover and continue cooking on LOW for 1 hour longer.