Pork Loin With Asparagus (Schweinelendchen Mit Spargel)
lazyme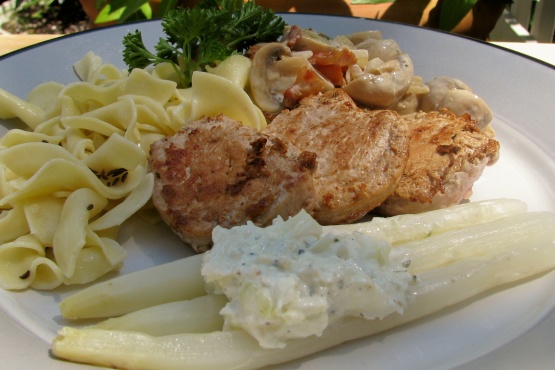 Quick and simple what more can you ask for in a meal - oh, yes flavor and yes that was good too. I felt the sauce was too thick will thin next time and I am not sure the extra cost for white asparagus was worth it, green would have worked just as well.
Cut the pork loin in slices.
Heat the butter in a frying pan and fry the pork loin slices for 3 minutes on each side, season with salt and pepper and keep warm.
Peel the asparagus.
Bring water to a boil in a large saucepan and add a teaspoon of both salt and sugar.
Cook asparagus for about 15 minutes, then remove, allow to drain and keep warm.
Peel the onion and pickle and puree in a blender.
Peel the hard-boiled eggs and chop finely.
Mix together the eggs, crème fraîche and the onion, pickle mixture.
Season with salt, pepper and chervil.
Pour the sauce on to the asparagus and serve with the pork loin and boiled potatoes.