Leslie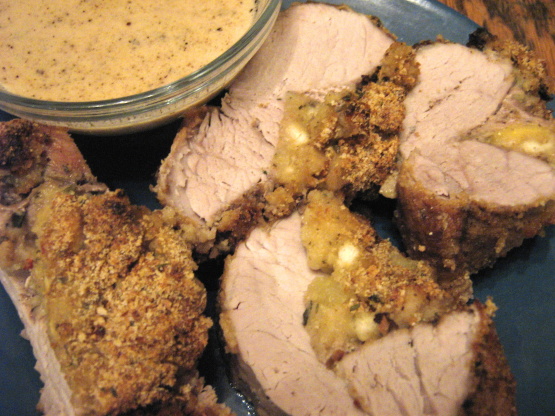 The stuffing in this roast makes this dish. The sauce is also very unique. Don't think you'll be disappointed. From: Southernfood.about.com

Top Review by Leslie
Gwynn, this was absolutely the most delectable pork roast we have ever had! I must say, I was a little nervous as it seemed to me that there was going to be a lot of apple flavour, but my DH wanted apple...so....I went ahead with the recipe. I used apple juice, as I had no cider. So, down to the making of this recipe. I made it just as described, although I think that next time I will roll the roast in breadcrumbs BEFORE stuffing, as I had a hard time rolling and having the stuffing fall out. Otherwise, it was made exactly as described. The sauce was something else I was unsure of, it seemed a little thin to me and I was worried that I didn't reduce it enough, but it was so flavourful! The sounds around the table were "Mmmmmm"" "wow" and "this is awesome!" This was a very simple recipe that turned out beautifully. I would serve this to guests in a heartbeat, it is that good. This is going in my all-time favourites cookbook! Thanks for posting!
Slice pocket in boneless pork roast.
Set aside.
Making enough to fill the pocket in the pork roast, mix the stuffing mix according to directions on box, except use apple cider in place of water, and add one peeled and diced apple.
Stuff the roast.
Bread the stuffed roast by carefully rolling in flour, then beaten eggs (which you can thin down with a splash of cider), then in breadcrumbs.
Melt butter in large pan or dutch oven. Brown roast thoroughly.
Add apple cider to pan, bringing it 1/2 way up the side of the roast.
Reduce heat to simmer, cover,and steam for about 20-30 minutes.
When the roast is tender, it is done. Remove roast from pan, and let set while you reduce the juices to about 1/3.
Mix in sour cream to taste.
Serve sauce on the side.
The roast is also excellent cold, and makes a very pretty presentation.
Notes: The amount of cider varies.
You can also use apple wine or apple juice if you prefer.