Pork Loin Rib/rack of Rib for Two
Bergy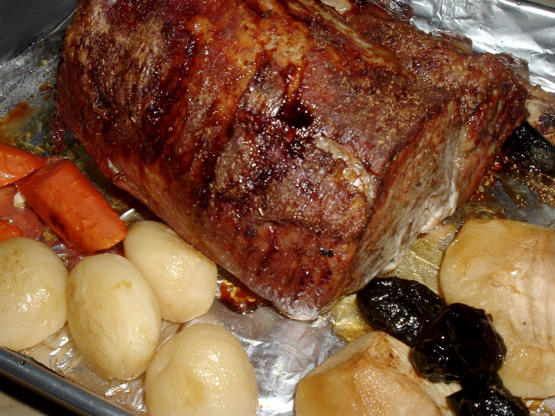 This is a complete dinner for two in one roaster. The Fennel Spice I refer to in the Ingredient is Fennel Spice Fennel Spice by Mean Chef.. I have suggested 4 ribs but this allows for left overs unless you are very hearty meat eaters. You may use regular potatoes cooked but the canned ones work well in this recipe. Prunes & Apples are very Danish with pork and give a nice touch.The cut that I use for this recipe is the Rack of Pork cut with the rib bones exposed - you would also use this cut for a crown roast.
pork loin rib roast (4 ribs)

2

tablespoons fennel, spice

12

prunes, pitted

1

large apple, peeled, cored & cut into 8 pieces

12

baby carrots

1

(19 ounce) canwhole potatoes, well drained

2

medium onions, quartered
salt & pepper

2

tablespoons honey mustard

4

tablespoons vodka or 4 tablespoons white wine or 4 tablespoons apple juice
Rub the Fennel spice into the meat and let it rest for at least 2 hours.
preheat oven to 375°F.
Place pork roast in the oven for 15 minutes, remove & add the prunes, apples and vegetables, return to oven.
Rotate the veggies every 15 minutes to brown them evenly.
After a half hour paint the meat with the mustard glaze, it will be very thin so be generous & paint several times.
Finish roasting apprx another 15-20 minutes time will depend on the size of the roast and the size of the vegetables. Internal temperature of the pork should be 165-170°F.