Pork Loin Chops With Mushroom Onion Gravy
lazyme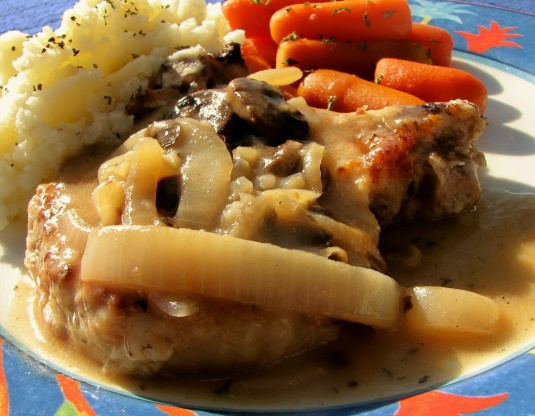 My own concoction. I prefer to use self rising flour because it gives a lighter coating, but feel free to use plain/all purpose flour.

I never cook pork chops so was a little timid about trying this recipe...but it turned out GREAT! It was really yummy tasting and pretty easy to make! I made it with yellow onion as I didn't have red, but I think red would taste better. Next time I made add other veggies too (like zucchini). Our guests were impressed with the meal too! Thanks!
Heat olive oil in large fry pan.
Add onion and cook 5 minutes then add mushrooms and cook 2-3 minutes.
Add garlic and cook 1 minute.
In the meantime, mix the self rising flour with salt and pepper to taste in a shallow dish and dredge the chops. Save 1 tablespoon of the flour for later.
With a slotted spoon, remove the veggies from the pan and set aside.
Brown the chops about 2-3 minutes each side and remove from the pan.
Return the veggies to the pan, add the chicken stock and place the chops on top, moving them around so they become immersed in the liquid.
Bring to a boil then lower the heat. Cover and simmer 10-15 minutes until pork is tender.
Remove pork to a plate and keep warm.
Mix the leftover tablespoon of dredging flour with the cold water and stir into the pan until thickened.
Spoon gravy over chops to serve.