Pork Loin Chops With Cinnamon Apples
Derf2440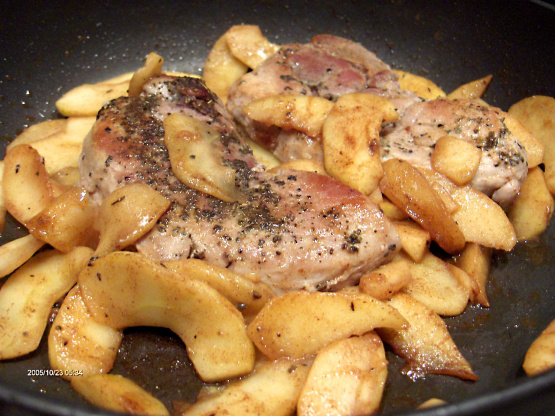 From Cooking Light. Serving size: 1 pork chop nad 3/4 c. apple mixture. Per serving: 251 calories, 8.3 g fat, 24.1 g protein, 20.2 carb, 2.3 g fiber, 67 mg cholesterol.

Super! Made this tonight and I really enjoyed it. The taste is light yet flavorful. Thank you to J-beeba for the suggestion of vanilla to add to the apples. I added a few drops and it was great. The family ate it up as well. Served with steamed green beans and ears of corn. This will be perfect in the summer when it gets hot. Glad you posted it on the site ratherbeswimmin'! Enjoy ChefDLH
In a small bowl, combine the first 3 ingredients; sprinkle over pork.
Heat oil in a large nonstick skillet coated wtih cooking spray over medium heat.
Add in pork chops; cook 3 minutes on each side or until done.
Remove pork from pan; cover and keep warm.
Melt butter in skillet over medium heat; add apple slices and remaining ingredients; cook 5 minutes, or until tender, stirring often.
Serve apple mixture with pork.