Pork Loin Chops in Mushroom Gravy
lazyme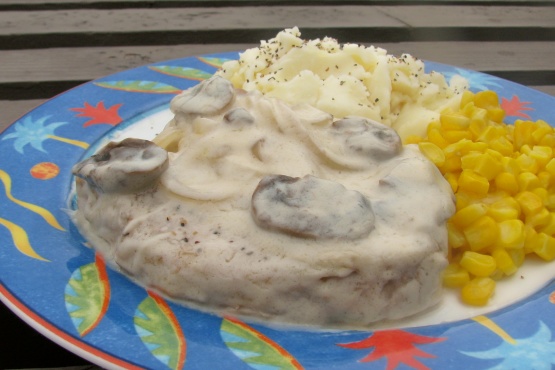 I like to think that this came from my head. Don't remember when I started making this, but it is one of my families favorites. Fairly simple, tasty and a comfort food. With rice, baby peas and a salad you have a great meal. Enjoy!!
Salt and pepper chops and brown lightly in canola oil. Do not cook completely.
Remove chops from skillet, leaving the drippings. Slightly cook onion rings in drippings until soft, but not brown.
Add the mushroom soup, sour cream, white wine and drained mushrooms to the onion. Stir until all ingredients are mixed well.
Place the pork chops back in the skillet and cover with the gravy mixture.
Cover skillet loosely and simmer slowly until chops are fully cooked.