Pork Loin Chop Marinade, Old South African
Prep 25 mins
Cook 10 mins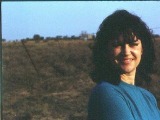 This is an ancient South African recipe, and as you will notice, was used in the days before refrigeration. Pork loin chops can be hard, and normally I do not like them. This peculiar recipe marinades them into juicy, tangy chops ideal for grilling. You won't be disappointed by the results ...
1 cup dried apricot, loosely thrown in, not pressed into the cup
2 cups vinegar, which can be 1 cup wine and 1 cup apple cider vinegar
12 well-bruised lemon leaves or 6 slices lemon peel
1 tablespoon fresh mild curry powder
2 tablespoons sugar
1⁄2 teaspoon salt
1 teaspoon turmeric
1 tablespoon spices, such as cardamom, cumin, anise and peppercorns or 1 tablespoon genuine fresh masala
Directions
Boil the apricots in water until soft. Enough water should be in the pot to allow you to pureé the apricots in a blender when soft.
At the same time, boil the onions in the vinegar until tender.
In the meantime, crush and mix together the spices mentioned, plus the sugar. Exact spices or quantities are not that important.
The apricots cook quickly. Mash or pureé them, add to the boiling onion mixture, then add the spice-sugar mixture.
Cool mixture to room temperature. Do not worry about the extreme sourness of the mixture -- you are not going to eat it!
This is enough to marinate 8 - 12 loin chops, depending on size and thickness. I prefer fairly thick chops.
Use a glass, ceramic or porcelain dish, and ladle some of the mixture into the bottom and spread it all over. If your mixture is very thick, add a little water, but it must be fairly thick and not watery!
Pack in a layer of chops tightly together. Layer over more marinade, and add the rest of the chops. Top with the last of the marinade.
How you do it, will depend on the size of your container and number of chops. Make sure all chops are in contact with the marinade.
Cover with plastic film and keep in the fridge. It's a good idea to turn and re-pack them once, to make sure every bit is marinated.
You can safely marinate them for at least 3 days and up to 7, 8 days in the fridge. They only get better!
To use: Scrape off the marinade with a spatula, and discard. You don't have to scrape them frantically, just get rid of most of the marinade.
It's by far the best to grill them over coals or charcoal. Don't overcook! Only use salt after grilling.
Reviews
Most Helpful
I just love this marinade! I have always been fond of Indian spices...and the aroma was enticing. For the 1 tbsp of spices...I used cumin and peppercorns...and bbq'd the chops. The result were tender, juicy and lightly flavoured. Thank you, Zurie for sharing yet another wonderful recipe!!

This is by far, the BEST explaination of a recipe I have ever seen. You have taken the art of cookery to a level rarely seen before. You made so much more of this than we ordinarily see, and I think, this alone, deserves recognition. Thank you. I am going to make this now, out of respect for the fine thoughtfulness and awareness that went into it. I am assembling the ingredients even now. Fragile Thunder
My indoor grilled died this evening and I was forced to cook these in a cast iron skillet. I prepared mine in a resealable bag and after 4 days the chops were incredibly tender and had a wonderful, subtle flavor. I went a little soft on the spices but now realize that that was unneccesary. On a lark, I tossed a chicken breast into the bag. Will let you know how that goes. Just lovely. Thanks!