Prep 30 mins
Cook 15 mins
In Puerto Rico pinchos are grilled pork or chicken kabobs. They are just to die for! They are served with a slice of bread at the very tip. If you don't have a pilón (mortar and pestle) you can mix your marinade in a food processor or blender. From about.com.
Directions
Using a pilón (mortar and pestle), mash the garlic cloves and salt into a paste.
Mix in the pepper and oregano. Stir in the olive oil and vinegar. Set the marinade aside.
Cut the pork into 1-inch cubes.
Cover the pork pieces with the marinade and let set in the refrigerator for about 20 minutes.
Skewer the pork pieces and grill the kabobs for about eight minutes, turning occasionally for even grilling.
Tip: If you use wooden skewers, soak them in water while the pork is marinating.
Reviews
Most Helpful
This was excellent! If you love garlic you'll love these. I marinated them overnight grilled them and lightly basted bbq sauce on them. In Puerto Rico you can also order these with tostones between the meat.
I made this for Fall 2007 PAC. This was something I will make again. We loved it. I cooked this on the stovetop. Very good.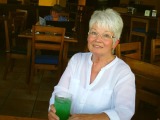 This was way too salty. Also, we found the amount of pepper to be too harsh. (All heat, no flavor.)