bowker01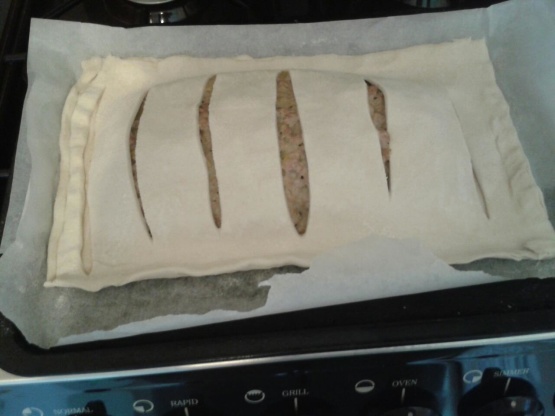 I found this recipe in a Tesco magazine in about 2001. Its apparently a savoury version of a classic French pastry, "Jalousie" means "shutter" and refers to its slatted top. It can be prepared in advanced and refridgerated or frozen prior to cooking. Its lovely served with glazed carrotts. I haven't altered the recipe in any way as we love it the way it is, although I think you could use creme fraiche instead of double cream. .

Lou van,Made this today,and enjoyed it,very tasty.My super market was out of stock on the puff dough,so had to use phylo.I am sure the puff would have been a bit nicer,but worked out fine.it may have been a little looser mixture that I would have liked ,and next time I will leave cover off mis after adding the cream and cornstarch.Thank you for posting. Don Steele
Melt the butter in a shallow frying pan and saute the leeks over a medium heat for 5 minutes until slightly softened.
Add mince and stir constantly for 5 minutes until browned.
Stir in the milk, chicken stock, sage. lemon juice, and seasoning.
Bring to the boil, cover and simmer for 10 minutes.
In a small bowl mix the cornflour with 2 tbsp water to form a smooth paste, then stir into the cream.
Stir the cream mixture into the mince, simmer for another 5 minutes, then remove from the heat and allow to cool for about 20 minutes.
On a lightly floured surface roll out half the pastry and trim to a rectangle measuring 30x18 cm (12x7 inches).
Roll the rest of the pastry into a rectangle about 2.5 cm (1 inch) longer and 2.5 cm (1 inch) wider and cut slashes 2.5 cm (1 inch) apart in the centre leaving a border of about 4 cm (1.5 inches) all around.
Place the first piece of pastry on a lightly greased baking tray.
Spoon the filling over evenly leaving a 2.5cm (1 inch) border.
Brush the border with water then cover the filling with the other piece of pastry.
Trim the edges then crimp together.
(It can now be chilled or frozen).
Preheat the oven to 220C / 425F / Gas 7.
Brush the pastry with the egg yolk and bake at the top of the oven for about 25 minutesuntil golden brown.
Serve.