Sageca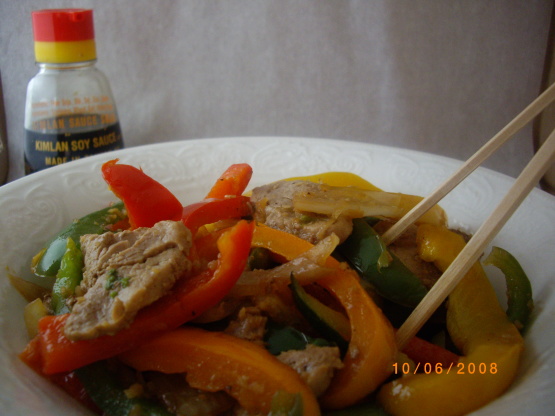 My daughter's boyfriend's mom gave her a cookbook that was created by the Houston Ballet for their Nutcracker Christmas Market in 1984. The recipes in the book were submitted by directors, choreographers, and dancers in the Houston Ballet that year. This recipe was submitted by Li Cunxin, Principal Dancer.

Nice and flavorful dinner. I did cut back on the celery to 1 stalk, and added with that 2 sliced green peppers, and 1 red bell pepper. This had a real nice garlic punch to it, and made for a well rounded dinner. I only wish I added more celery and vegetables to this. Great dinner for the 4 of us , served with recipe#400873#400873, and recipe#449987#449987. Thanks for a great main dish for tonights dinner. Made for your win in the Football Pool.
453.59

g lean pork loin

4

stalk celery

4.92

ml brown rice vinegar

44.37

ml peanut oil

44.37

ml soy sauce

4.92

ml sesame oil

0.25

ml sea salt
Cut pork into 1" slices. Peel and mince the garlic. Chop the celery and green pepper into 1" pieces.
Heat a wok (dry), then add 2 tablespoons of peanut oil. When oil is heated add half of the chopped garlic. Stir until garlic turns light brown in color.
Add the pork and stir-fry until it begins to turn white. Add the soy sauce and rice vinegar and stir for 30 seconds. Remove all ingredients from wok and set aside.
Add the remaining 1 tablespoon of peanut oil to the heated wok. Add the remaining chopped garlic and stir until it begins to brown.
Add the celery pieces and stir for 30 seconds. Add the green pepper and stir for 15 seconds.
Add a pinch of sea salt and stir quickly. Add the pork mixture that was set aside and stir for 2 minutes.
Sprinkle sesame oil over the dish and turn off heat. Cover and let sit for 1 minute.
Serve immediately with rice or noodles.