chasozzy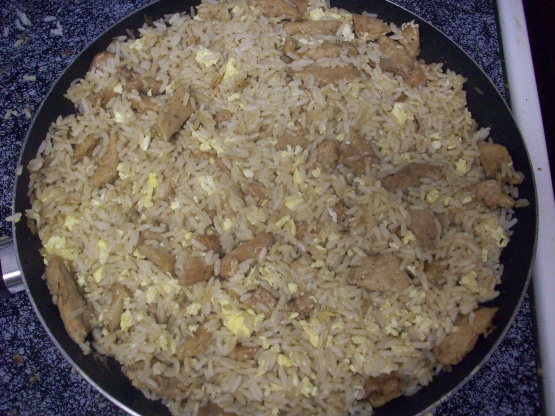 One of my favorite recipe's to make when I was helping my grandmother with the cooking was fried rice. Over the years, I have developed a variation all my own. I usually make this when I have left over pork roast or ham. I hope you enjoy!

My family loved this! I added some cabbage (in lieu of peppers) to the scallions to saute and then put in a bag of frozen stir fry veggies. Other than that, I made the recipe as is, and it was a huge hit!
Cut meat into thin strips, about an inch long.
Saute scallions in oil for about 5 minutes.
Add peppers and cook until soft.
Remove and keep warm.
Add meat and brown.
Add soy sauce, garlic and black pepper.
Simmer for a minute or two, until liquid is absorbed into meat.
Add scallions and peppers back to pan.
Add cooked rice and heat through.
While mixture is heating through, in a small bowl beat egg.
Then in a small fry pan, scramble egg.
Add to rice mixture and serve.