Bergy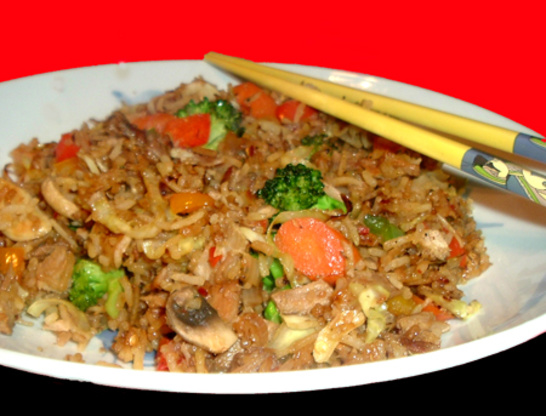 My mom often substituted the ground sausage with leftover pork roast from Sunday dinner. Leftover ham would work well too. Feel free to play around with the vegetables, using different kinds or omitting what you don't like. Other seasonings I sometimes throw in teriyaki sauce (instead of soy sauce), sesame oil, and/or a little bit of red pepper. All seasonings are normally added by taste. Food processing the vegetables gives the fried rice a more colorful presentation along with encouraging those who don't like vegetables to eat their vegetables.
Start the rice cooking if you don't have some on hand already.
Cook the meat in a frying pan and drain the grease if it was raw to begin with.
In a food processor, chop the onions, carrot, broccoli, mushrooms and zucchini. Of course, you don't have to chop the veges this small. You can cut them up by hand into larger pieces if you wish.
Saute the veges in a wok or large skillet with a little margarine and oil. When veges, meat and rice are done put all into the large skillet and toss together evenly.
Add oriental ramen seasoning packets, clam sauce, soy sauce, salt, pepper and garlic salt. With the oriental ramen seasoning you can just throw the noodles away (as my mom used to, ramen is cheaper than buying oriental seasoning packets) or you can save them for the noodles in a stir fry for some other time as I do. (In fact, I'll post a recipe called "Ramen Stir fry"). Toss the fried rice to disperse the flavors.
Add cooked egg, snow peas, cabbage and green onions. Warm them up in the fried rice. They don't really need to be cooked, just left crunchy.