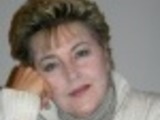 This dish is reminiscent of my Grandma's awesome Austrian cooking. I got the idea for this dish from a Mr. Food pressure-cooker recipe. I changed some ingredients and adapted it for crockpot. I prefer a slightly fattier cut of pork because it comes out so tender and flavorful. I've served this for dinner parties, and people always ask for a second helping. I serve this with egg noodles and applesauce. True comfort food!
3 lbs pork or 3 lbs boneless country-style ribs or 3 lbs pork loin chops, 3/4-inch Thick
2 tablespoons bacon fat, Rendered (I keep a can in my fridge)
1⁄2 teaspoon salt
1⁄4 teaspoon white pepper
3 yams, approximately 1 1/2 pounds, peeled and cut into 2-inch thick slices
3 Red Delicious apples (Use apples that hold their shape when cooked) or 3 rome apples, peeled, cored, and cut cross-wise into three rings (Use apples that hold their shape when cooked)
1⁄2 cup cider or 1⁄2 cup apple juice
1⁄2 cup light brown sugar, Packed
2 1⁄2 teaspoons ground cinnamon
1⁄4 teaspoon ground allspice
1 tablespoon caraway seed
2 lbs sauerkraut, drained, not rinsed, squeezed dry
Directions
Heat bacon fat in large saute pan over medium-high heat.
Season the pork with salt and pepper, and brown for 2 to 3 minutes.
Place sliced yams in bottom of crockpot.
Set crockpot on low.
Layer the pork, including any pan drippings, and apples on top of the yams.
In a small bowl, combine cider or apple juice, brown sugar, cinnamon, allspice and caraway seeds; mix well and pour over the pork and apples evenly.
Top with the sauerkraut. It's a tight fit, but my 5-quart crockpot lid does close.
Cook on low for 7 to 9 hours.
Remove the lid and serve the pork with the sweet potatoes, apples and sauerkraut, spooning sauce over everything.
Reviews
Most Helpful
This was exactly the recipe I've been searching for. My mother use to make it with pork spare-ribs and called it Luau Spareribs. I just doubled the amount of spareribs since they have the bone in, doubled the apple cider (because I baked it in the oven for 5 hours at 325F), and omited the bacon fat. Very tasty! Thanks Divaconviva
Wow! This was really good, though I had my skeptical moments. I didn't read thru the recipe properly before I started, so I prepped everything, THEN noticed that I only have a 3qt. crockpot, unlike the 5qt. one used with this recipe. No biggie -- I just cut back on the sweet potato, only used two apples, and half the sauerkraut called for, but the same amount of liquid and spices. At first I was really skeptical that it was cooking properly, but I gave it a chance, and when I finally stirred it around I saw that it was fine. The second stage was where I thought the whole thing was going to be overpowered by the sauerkraut, but when it had all cooked properly everything was in balance and VERY tasty. Perfect for a chilly fall or winter day! Very cozy...
This dish was easy to put together and was delicious! I followed the directions, except cooked it on the stove (medium-low heat) for 1 hour and 15 minutes. Perfect! Thanks so much for sharing this recipe, I will definitely be making it again!