ciao4293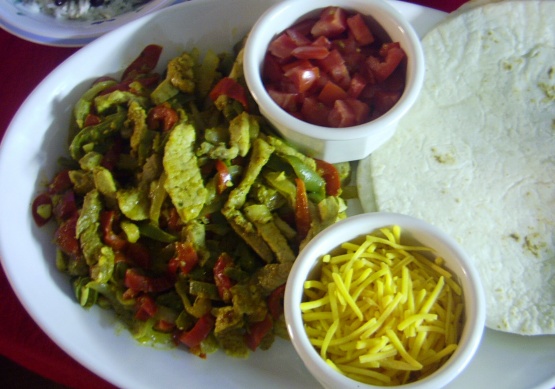 These are so easy, and so delicious! They cook up very quickly. Tender pork with onions, peppers, garlic, lime juice...well, you get the idea. From The Recipe Hall of Fame Cookbook, with a few changes.

These turned out fantastically. The pork was juicy and flavorful while the veggies tender and well spiced. Thanks for a great recipe - especially the idea for fajita seasoning mix.
Heat the oil in a large skillet over high heat.
Add pork, sprinkle with the salt and pepper.
Cook, and stir constantly for 2 minutes.
Add peppers, onion, garlic, cumin and fajita seasoning, continue to cook until the vegetables are crips-tender, about 3-4 minutes.
Stir in the lime juice, and saute for about 2 more minutes.
To serve, roll 3/4 cup meat mixture in each tortilla and garnish as desired.
I like to put the meat and tortillas in a platter and bring it to the table, and let everyone make up their own.