Pork Cutlets With Maple, Mustard and Sage Sauce
COOKGIRl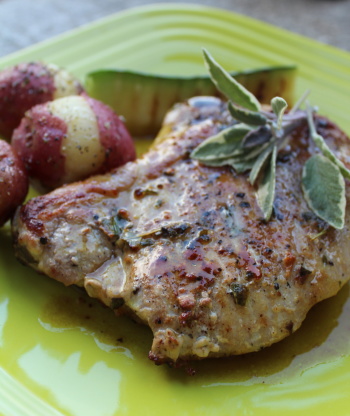 This recipe is one of my all time favorites. It sounds really strange but it is amazing. It's quick, easy and very yummy! It comes from an issue of Bon Appetit.

Wow, this was such a great recipe. I wasn't sure about the mustard & maple combo, but the taste was REALLY great, and I'm not even that crazy about mustard flavoring in food. I followed the recipe exactly, only in cooking the pork chops, I seared them on the stove top quickly, about 1 minute each side, and then set them in the oven for about 20 minutes at 300, and they came out nice and moist and perfectly cooked for us. This will be made again many times!!
Sprinkle pork loins with 1 tablespoon of fresh or 1 teaspoon of dried sage, salt and pepper.
Melt butter in large skillet over high heat.
Add pork and cook until browned on both sides and cooked through, about 1-1/2 minutes per side.
Transfer pork to plate.
Add broth, maple syrup, mustard and remaining sage to drippings in skillet.
Boil until syrupy, scraping up browned bits, about 5 minutes.
Reduce heat to low; return pork and any accumulated juices to skillet and cook just until heated through, about 1 minute.
Serve pork with sauce.