Pork Curry With Coriander
Leslie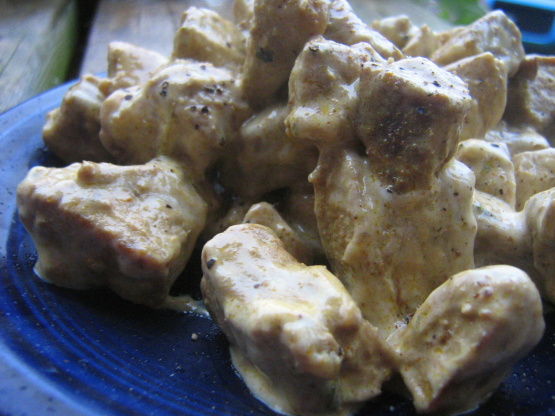 IPork is one of the cheapest meats we can buy in Australia so I am always on the lookout for ways to use it-especially curried. This one was a good one we thought.

Top Review by Leslie
This is delicious and was very easy to put together for a great weeknight dinner. The curry had a wonderful flavour. I have never made curry paste before, now I think I'll make it more often. I love to be able to whip up home made things like that and know exactly what I am feeding my family. Also, it's saves a few bucks from purchasing premade curry paste. This dish will be in my "favourites" cookbook. Thanks Jan! Made for Aussie Swap :)
Curry Paste:.
Toast the coriander, fennel and peppercorns in a dry fry pan over medium heat until fragrant.
Grind or use a mortar and pestle to crush to a powder.
Put the garlic, ginger, onion and ground spices in a food processor and pulse until a paste is formed.
Curry:.
Add 2 tablespoons oil to a fry pan and brown the pork in batches. Remove to a plate.
Add the remaining oil and heat; fry the spice paste for 3 to 4 minutes stirring often. Add the pork and stir well; add the water and bring to the boil.
Season with salt to taste (I find curry needs quite a bit of salt so start with about 1 teaspoon), cover and simmer gently for 2 hours (add more water if the sauce becomes too thick).
Pour off any excess oil and stir through the yogurt and coriander leaves.